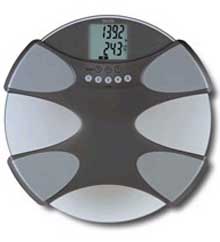 I've been using a POS scale at home. It's consistent, so I know how much weight I've lost, but I think it's wrong. Yesterday, I went to Linens and Things looking for a real scale, like the kind you can sell drugs with. They didn't have those, but they did have a dozen or so other "electric" , and regular analog scales on display.
I took about a half dozen of them down and stood on them, and little to my surprise I found that my weight fluctuated as much as 6-7 pounds depending on which scale I stood on. Another note I made is that even the one that gave me the highest number was still a pound or so less then my scale at home.
So what does this mean?
It means they don't like it when you get naked to weigh yourself at Linens and Things.
It also means that I probably weigh less than I thought by up to 5 pounds.
What does it change? Nothing.
I'm still going to go by my home scale since it's at least consistent. If some day I do find an out of work pot dealer willing to part with his tool of the trade, I will just adjust my numbers accordingly. If the scale says I'm 5lbs lighter my goals will be adjusted by 5 lbs.
And in the overall picture, when will I decide to stop losing weight? It actually won't be when a scale says a certain number, but instead when I can look at myself in the mirror and can be 100% happy with what I see. I don't know what that number is so scales are just a measure of progress at this point.
I wonder if you have to be clothed to use the
mirrors
at Linens and Things? Only time, and the local Police Department will tell.